Smart Charging Stations
ChargePoint charging stations use cutting-edge hardware technology that's rigorously tested to be safe and reliable. While our stations are rugged and built to withstand the elements, they also are designed to be driver-friendly, offering a premium charging experience.
ChargePoint stations are part of a complete solution that includes 24/7 driver support, cloud-based software with features and plans for every industry and world-class service and maintenance.
---

All-Purpose CT4000 Level 2 Charging Stations
The CT4000 is the right fit for property owners, businesses and municipalities that are looking for charging stations for their employees, customers, residents and fleets. They offer the complete set of capabilities that station owners need to manage EV drivers and fleets.
---

CPF25 Level 2 Charging Stations for Fleetsand Multi-Family Homes
The CPF25 is designed for select fleet and multi-family applications. For fleets, CPF25 stations are ideally suited for depot charging. For multi-family communities, CPF25 stations are intended for personal charging in assigned parking spots.
---
Express 100, 200 and 250 DC Fast Charging Stations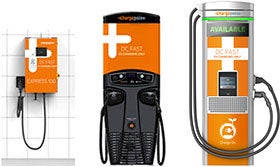 ChargePoint Express DC fast chargers allow property owners, businesses and municipalities to offer fast charging for all of today's EVs equipped with DC fast charging. With an embedded AC-to-DC converter, they directly charge vehicle batteries.
Express 100 can be used around towns, while 200 and 250 stations are ideal for businesses near major roads where drivers need quick turnaround charging. Express stations can also complement CT4000 stations at workplaces, offering employees a quick charge when they need it.
Learn More about CPE100 Learn More about CPE200 Learn More about CPE250
---
Express Plus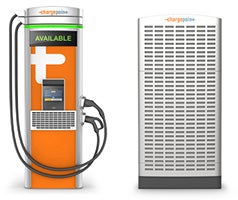 Express Plus is a future-proof ultra-fast DC charging platform that grows with demand and accommodates the battery technologies of today's and tomorrow's EVs. The modular, scalable architecture allows up to 4 Power Blocks to serve each station and send up to 500 kW to a single vehicle.
Station owners can expand charging capacity without any stranded investment by adding Power Modules, Stations and Power Blocks as demand increases. Express Plus is ideal for short dwell time parking, like freeway locations, metro fast charging centers and quick turnaround fleet charging.
---
Think it's a good time to get hooked up with new stations?
It's as simple as dropping us a line.